Staff Directory
Every one of us here at CREC is passionate about bringing quality education and valuable teaching resources to our members. Please contact us to find out how we can help your school.
Administration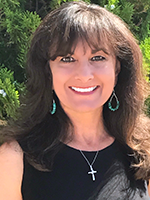 Maria Jaramillo
Executive Director
P: (505) 889-3412
Send Email
Biography
About Maria Jaramillo
Maria Jaramillo has been honored to serve as the executive director of the Central Region Educational Cooperative since 2010 and has been an employee of CREC since 1993. She began her career as a speech-language pathologist for the Carlsbad, Albuquerque, and Moriarty-Edgewood school districts, as well as the CREC member school districts. Maria also provided speech-language diagnostic services to schools in the Eastern Navajo Agency for eight years through Communication Assessment Services, where she held partial ownership. She has had the privilege of serving as the NMCEL president and was elected to the national AESA executive council where she is currently serving. As a New Mexico educator for over 32 years, Maria is optimistic about the future of New Mexico public education. She is committed to helping the students of New Mexico find their life purpose by providing training and assistance to the educators that guide them. She believes "it takes a team" and is grateful for her staff, council, and the member school districts involved with this collective effort.
Close
Office Staff
Taisha Chambers
Administrative Assistant
P: (505) 889-3412

Sandra Coleman
Child Find Coordinator
P: (505) 889-3412, ext. 104
Direct: (505) 808 2246

Phillip C de Baca
Information Technology Manager and Project Support
P: (505) 808-2252

Vanessa Doubek
Medicaid Coordinator
P: (505) 889-3412, ext. 108
Direct: (505) 808 2248

Carol Elliott
Procurement Officer
P: (505) 889-3412, ext. 115
Direct: (505) 808 2243

Lucretia Foster
Vocational Transition Coordinator
P: (505) 889-3412

Vicky Fuessel
Program and Related Services Coordinator
P: (505) 889-3412, ext. 109
Direct: (505) 808 2253

Laura Gilge
Project Manager/Lead Vocational Transition Coordinator
P: (505) 889-3412, ext. 112
Direct: (505) 808 2239

Alex Johnson Jimenez
Digital Learning Coach
P: (505) 889-3412

Corey Lucero
Human Resources Generalist/IT Assistant
P: (505) 889-3412, ext. 106
Direct: (505) 808 2250

Florence Mceachren Garcia
Administrative Assistant/Medicaid
P: (505) 889-3412, ext. 107
Direct: (505) 808 2242

Chrys McMillin
Financial Specialist
P: (505) 889-3412, ext. 111
Direct: (505) 808 2249

Jessica Orona
Business Manager
P: (505) 889-3412, ext. 105
Direct: (505) 808 2241

Mandy Thrasher
Program and Related Services Coordinator
P: (505) 889-3412, ext. 110
Direct: (505) 808 2244

Hector Valles
Digital Learning Coach
P: (505) 889-3412